Summary of this week: I'm a little behind on updates...


We're almost 21 weeks (and 9 days shy of 5 months) past the partial resection of my brain tumor.
We're 4 weeks past the completion of 6 weeks of radiation.
Medically - On Thursday, I had my first follow-up with my Radiation Oncologist. He was very pleased with my progress and felt that I was well ahead of the curve when it came to recovery. I asked him some questions that had been on my mind and he assured me that it is all normal. He told me that neurologically I'm as sound as anyone and probably more sound than he is. LOL His only real concern was the extensive "scabbing" that was still on the top of my head. He told me that he wanted that off as quickly as I was able to manage. How was that to be done? Baby oil. The nurse told me to put baby oil on my head and let it set for 30 mins or so then wipe it off with a soft wash cloth. It all came off just that easily that very afternoon. Therefore, my head is no longer disgusting to look at. :)
He told me that I can go back to working full time with my NeuroSurgeon now for arranging treatments and that he didn't need to see me until February. So I've been dismissed.
I need to send a message to my NS next week to schedule my MRI. We are going to do a head/neck one because I have been having a lot of problems with my neck again and we want to check on the hemangioma that is in my C3 vertebra. I suspect there will be more neck MRIs in the future since we now know that my brain tumor is malignant. We will need to watch it to make sure it's not a Met. He said there is very little chance of it but my case hasn't exactly gone off without some surprises. I'll know more soon.
Emotionally - My therapist is watching my emotions very closely right now. I had a few bad weeks in there with a combination of my Seasonal Depression, fighting my son, and just feeling a bit down. I think both of us have a primary concern of my reactions as we get closer to the post-radiation MRI. As much as I try to fight the feeling, my intuition still sits there and tells me that I should not have done radiation yet. Therefore if the MRI does not show the results we hope, I could be in for a rough few days fighting with my own mind. However, I'm strong and I am sure I will overcome it just like I have everything else to date.
John also had to play to my emotions this week as well. One of the reasons that I started therapy over a year ago was because of anxiety that is induced by medical situations occurring with John. It's a stupid anxiety but it was really taking it's toll on me and I was unable to control it. Well, he messed up his back... again and has had to visit the chiropractor. There was some concern he might have done more damage than just knocked it out of place a little bit. Luckily he didn't and it's just in need of some adjustments but it was enough to give me a bit of an anxiety attack. It came off more in anger for him not listening to me to go to the chiro before harvest and more anger because he didn't ask any questions of the chiro but I was able to use some techniques I've been taught to control most of it.
Mentally - Last week my therapist and I actually tested my short term memory to see if the memory loss is legit or all in my head. It is indeed testing lower than it had prior to surgery and even before radiation. The RO says it could take six months for that to stabilize so I now know what to expect. My therapist and I also believe that it could be less short term memory and more my continued inability to focus as I used to. I guess time will tell.
Physically - I could feel actual progress in energy this week. I made it quite easily full-time through Wednesday despite the horribly cold working conditions at work right now that left me with headaches. I ended up taking a sick day on Thursday to recover and even out the fact I didn't get to sleep until after midnight on Wednesday because of a headache that would just not go away. I felt pretty good Friday despite doing A LOT of moving around during the day. I was tired by the end of it but wouldn't have been able to do as much as I did the previous week.
My head hurts less now with the burns and now that the "cradle cap" is gone my head feels much better. It actually feels like it's healing now. Thanks to working in 65 and below temps mon-wed at work, I have also got a pretty good idea of where they removed the skull to get into my head. Sad to say but the "hit by a hatchet" feeling makes it pretty accurate.
I have also been dealing with some aches beyond the headaches from the cold. It is in my neck/lower skull/ear area and I believe I may have managed to crack another tooth. I'm trying to hold out until after the holidays but I don't know if it will work or not. (I have a dentist appointment already scheduled for the week after Christmas.) I've already had to have one tooth pulled this year from cracking it. I would like to get a little more healed from radiation before I go for the second...
Family/Work/Play - As stated, the working conditions at work thanks to an old building and down boiler is quite uncomfortable. It forces me to wear a cap all day and my head doesn't like that very much. It's the pits when you have to make a choice between feeling like a hatchet went into your head from the cold or feeling like your brain is being compressed from a cap. Even with the cap my head still tends to freeze. I suspect I will have to work things out at some point to make sure I don't let my head get too cold. Hopefully they will get it fixed soon.
John is still busy with harvest although not as bad as it was. I suspect it will still be going on close to Thanksgiving. He's already said he is taking a four day weekend that weekend regardless of what is going on. I can't blame him. (Four days alone with John and JJ... I haven't done that since surgery... is this a good thing or bad? LOL)
I have some fun things planned today. My son and I are going to visit some friends at a local "kiddie place". I will sit around and talk and he will enjoy everything from games to go karts to laser tag. Then we have a get-together at my mom's this afternoon and I am hoping to go to dance tonight. Not sure I'm going to be able to dance as much as last time but I'd love to get into a few dances at least.
Halloween was last night. My son is "too old" for trick-or-treating or so he said up until 3:30 yesterday afternoon. He wanted to go out with a bunch of pre-teen boys and we ended up butting heads because he couldn't tell me who was supervising. He didn't get to go because of yelling at me because I wouldn't just let him go. He's over it this morning but regardless. Halloween is my favorite holiday and I didn't even post a happy Halloween on my blog. Sorry about that. I also didn't decorate this year but I blame it on energy and lack of ambition this year. Next year I will be back to my old self. I actually decorate more for Halloween than Christmas.
However, I did utilize what I have to make my halloween costume. Introducing the Deranged Brain Patient: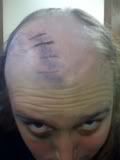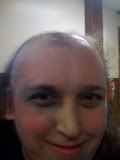 The pictures didn't turn out as well as I'd hoped but basically those are not real staples or bruising on my head (the scar is real) and I have a black eye that actually fooled a few people at work yesterday. Not bad for a few minutes of work with makeup. I actually did the black eye over my lunch hour. LOL
Oh, back to work. I have now completed my second week of full-time work. (Although I haven't actually made the full week yet. Last week I had to take a half day vacation and this week I took a sick day because I just couldn't go any further without taking the chance of dropping myself a little further than I should run myself.
Ok, I guess I better wrap this up. Unfortunately, I've got a ton to fill in on still but I'm not going to do it in one post. Hopefully I'll get the spark this week to write my other entries...